Specializing in a customized lash experience that is SAFE for your natural lashes  858.314.8440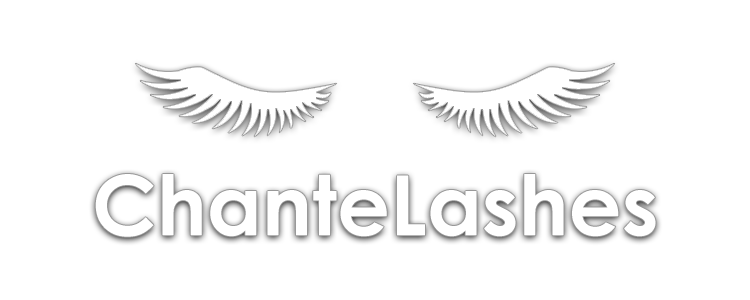 Due to added precautions now put in place, availability will be limited and online booking will be disabled for the time being.  Please call or text to schedule your appt. 
Thank you!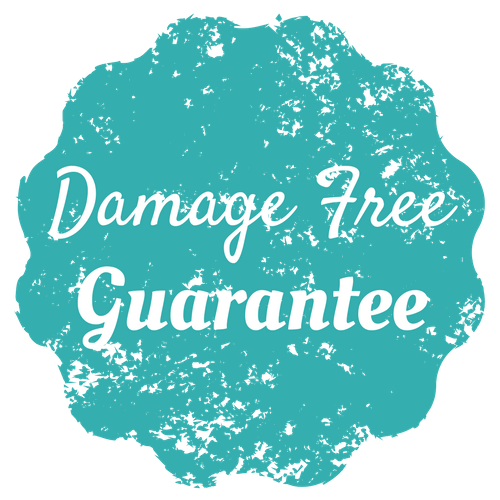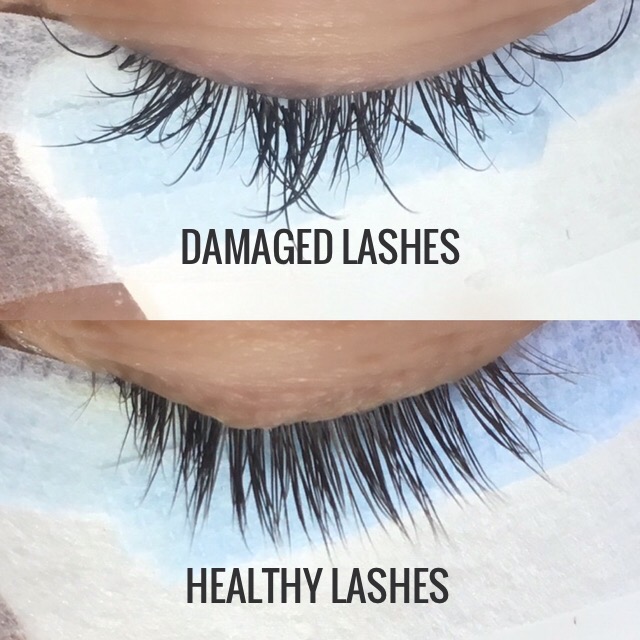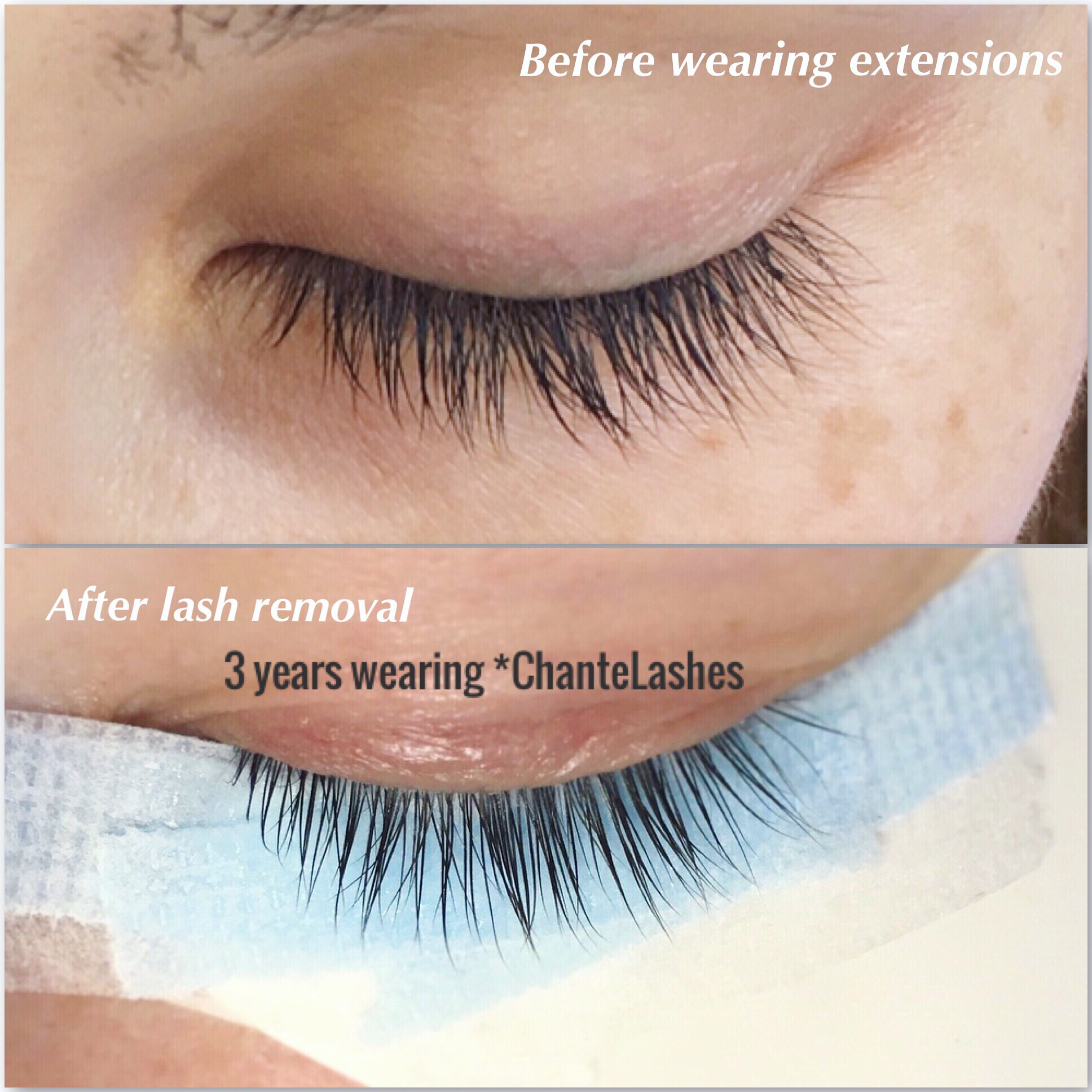 WHAT DOES THIS MEAN? We take pride in the Lash work that is created at ChanteLashes, and through extensive training and continual education, guarantee clients that their lashes will not be damaged by our specific method of eyelash extension application. 
     HOW CAN WE ENSURE OUR GUARANTEE?
Assessing client's lash health at every appointment 

Ensure lash length and weight is appropriate for the natural lash to withstand
We educate all clients about the importance of proper home care
A joint effort is key to maintaining healthy natural lashes with extensions!
LASH MENU
Volume Lash Extensions
Volume lashing is an advanced technique in which handmade fans consisting of  light-weight lashes are placed on each natural lash. Volume lashes are the best choice for those with sparse or brittle lashes, or those who prefer a more dense and dark look to their lash line.  This set gives the ultimate full coverage for a makeup free, easy morning.
For new or returning clients, not currently wearing extensions.  Includes consultation. 
3 hrs
2-3 weeks from last appointment. 
90 mins
New Client Volume Fill   (Extended Fill)
3-4 weeks from last appt. or new clients wearing lashes from another studio.  Includes consultation, assessment of lash health & adjustment of styling to blend current extensions with new.  2hr+
5+ wks from last appt. (or less than 15 lashes per eye)
Signature Hybrid Lash Extensions
The Signature set is a blend of Volume and Classic lash extensions.  It is the top choice for those new to wearing eyelash extensions, who may not be sure if Classic or Volume is right for them.  This set gives a mix of both fullness and length, eliminating the need for mascara and eyeliner.
Signature Hybrid Full Set   
Most Popular!
For new or returning clients, not currently wearing extensions.  Includes consultation. 
2.5 hrs
2-3 weeks from last appointment. 
75 mins
New Client Signature Fill   (Extended Fill)
3-4 weeks from last appt. or new clients wearing lashes from another studio.  Includes consultation, assessment of lash health & adjustment of styling to blend current extensions with new. 
1hr 45
5+ wks from last appt. (or less than 15 lashes per eye)
Classic lash extensions are single lashes that are adhered to each individual natural lash. This set adds length and curl to the lashes for a beautiful, enhanced mascara look.
For new or returning clients, not currently wearing extensions.  Includes consultation.  2hrs
2-3 weeks from last appointment.  1hr
New Client Classic Fill   (Extended Fill)
3-4 weeks from last appt or new clients currently wearing lashes from another studio.  Includes consultation, assessment of lash health & adjustment of styling to blend current extensions with new. 
1.5 hrs
5+ wks from last appt. (or less than 15 lashes per eye)
More Lash & Brow Treatments
All extensions are removed safely and easily. 
30 mins
SKINCARE MENU
MICROCURRENT
Micro-current is non-invasive electrotherapy that uses low levels of electric current to facilitate circulation, cellular healing, muscle lifting and muscle smoothing.   Known in the beauty industry as "the instant facelift," Microcurrent improves both collagen and elasticity of the skin, oxygenates the cells to help reduce redness and/or acne, and minimizes wrinkles and sagging, for a topical and more natural "Botox" effect.
*Recommended in a series initially for best results
Dermaplaning is a completely painless process that immediately rejuvenates the skin by removing 2-3 weeks worth of dead skin along with the vellus "peach fuzz" hair.  It is highly effective in minimizing the appearance of fine lines and acne scars, while leaving skin smooth, supple, and vibrant.  Dermaplaning increases the penetration of home care products and creates the perfect canvas for flawless makeup application.
Rejuvenating treatment for all ages that helps to minimize fine lines/wrinkles, brighten skin's complexion, and oxygenates the skin cells for a clearer, more youthful appearance.  Includes skin analysis, 20-30 mins of Microcurrent, Ultrasonic scrub, LED light therapy, and hand massage.  
60-70 mins.
A brightening treatment that removes top layer of dead skin along with vellus hair, resulting in a smoother skin texture and healthy, youthful glow.  Includes skin analysis, Dermaplane exfoliation, peptide enzymes, LED light therapy and hand massage.
60-70 mins
Leaves the skin feeling silky smooth due to the exfoliation and hair removal process.  Includes cleanse, Dermaplane and finishing products.
30 mins
The ultimate rejuvenation and pampering session for you and your skin.  All the benefits of the Microcurrent facial and Dermaplane facial combined into 1 amazing treatment.
90 mins
On the day of your appointment: Please arrive with clean lashes & no eye makeup on, in order to get the best bond of the extension to your natural lash.
Cancellation Policy: As a courtesy, appointment reminders are sent out 48 hours in advance.  Any cancellations or changes of appointments should be made by 2pm the day prior to the existing appointment.  Changes made after this time or same day cancellations or no-shows will result in a charge of 50% of the service booked.  This is to protect your time that is set aside especially for you, as well as our time, which books up quickly.  In turn, we promise to keep appointments on time and deliver the best Lash work San Diego has to offer!
Arrival:  Appointments start promptly and are time sensitive – arriving 5 minutes before your scheduled time is strongly recommended to ensure appointment efficiency.  Late arrivals are not guaranteed an extension to their appointment time.  
Refunds:  Refunds are not granted for services or products purchased.  If you are unhappy with your service, you may contact us within 72 hours of the appointment to discuss your concerns, which we will address to the best of our capabilities.
Other artist's work:  Clients coming to ChanteLashes wearing extensions from a previous lash artist are required to book a New Client Extended Fill for their first visit.  After the initial visit, regular 2-3 week Lash Fills can be continued.
Wedding Lashes:  Brides are required to book their initial appointment 2-3 weeks before their event, followed by a refill just prior to the big day.  This allows the client the ability to change and perfect the lash styling if desired, during their refill appointment. 
Damage Free Guarantee does not apply to exterior influences on the lashes that are outside the control of ChanteLashes.  

To include, but not limited to: seasonal lash shedding, medications that affect the body's ability to sustain natural lash integrity, poor hygiene, use of products on the lashes that have not been recommended by ChanteLashes, misuse of recommended products, pulling, tugging or smashing extensions, intentional damaging of the natural lashes or extensions, use of heat, eyelash curler or scissors on extensions. 

Additional Guests:  We kindly ask that additional guests are not invited into the room during your appointment.  If traveling with others, there is a large waiting area in the salon as well as an outside patio for guests to reside.
How do I care for my lashes?
Home care for lashes is simple and easy. Make sure to wash your lashes daily with an eyelash extension-safe cleanser, to wash away oil and other build-up that may break down the bond of the adhesive and cause early lash fallout.
Do not pull, pick, or sleep on your lashes.
Brush lashes daily to keep them separated and lush.
Can I get my lashes wet?
Lashes must remain dry for 6-12 hours after the service. This allows proper time for the adhesive to set completely. Daily showering and hygiene is not detrimental to the lashes, however excessive exposure to steam and water can loosen the bond and cause lashes to shed more rapidly.
Can I wear make up on my lashes?
We do not encourage wearing makeup on or around eyelash extensions, as there may be ingredients that can break down the adhesive and cause fallout.  If makeup is worn, it must be water-based or powder products ONLY, and cleansed off completely at the end of the day. Avoid water-proof, oil-based or creamy products around lashes.
Does working out/exercise affect my lashes?
Sweat does contain oil, which we want to avoid getting on our lashes, so it is important to always wash your lashes after a workout to keep them clean and oil free.  When doing activities that cause profuse sweating such as hot yoga, spin, etc, it is a good idea to wear a head band to keep sweat from dripping onto the eyes.
How long do eyelash extensions last?
The life of your extensions will vary depending on one's natural lash shedding cycle, hygiene, life style and home care. It may take up to 5 or 6 weeks for a full set of lashes to shed completely. Typically we shed anywhere from 2-5 natural lashes per day, therefore refills are recommended every 2-3 weeks to keep lashes looking full and fresh.
What happens if I get an allergic reaction to lash extensions?
It is always important to take proper care of your eyes and consult your doctor in the event of any type of allergic reaction. If a reaction should occur after the first initial appointment, please contact ChanteLashes within 72 hours of the service.  Following a doctors approval, a removal of the lash extensions will be given complementary.
Do extensions damage the natural eyelashes?
Lash extensions should NEVER compromise the health of one's natural eyelashes.  At ChanteLashes, careful consideration goes into the size or amount of extensions being applied, to ensure natural lashes are not being weighed down or damaged in any way. Each lash is isolated from one another and lashes are never glued together or applied to the skin. They should feel virtually weightless and completely comfortable.
Does Dermaplaning hurt?  Dermaplaning is a complete PAINLESS process which uses a very fine surgical blade to remove the top layer of dead skin and vellus hair.  When performed by a licensed and trained professional using the proper technique, it is completely safe for the skin.
Is there any downtime after Dermaplaning?  No, that's one of the benefits. The skin instantly has a healthier glow and feels amazingly soft, plus makeup glides on effortlessly for a flawless finish.
How long do Microcurrent results last?  Microcurrent is a cumulative treatment, which means the results will last longer the more often and regularly it is done.  While it is typical to see a lift in the face after the first treatment, it is recommended to start out with a series of several weekly treatments, and then continue with monthly maintenance after the series is completed for best results.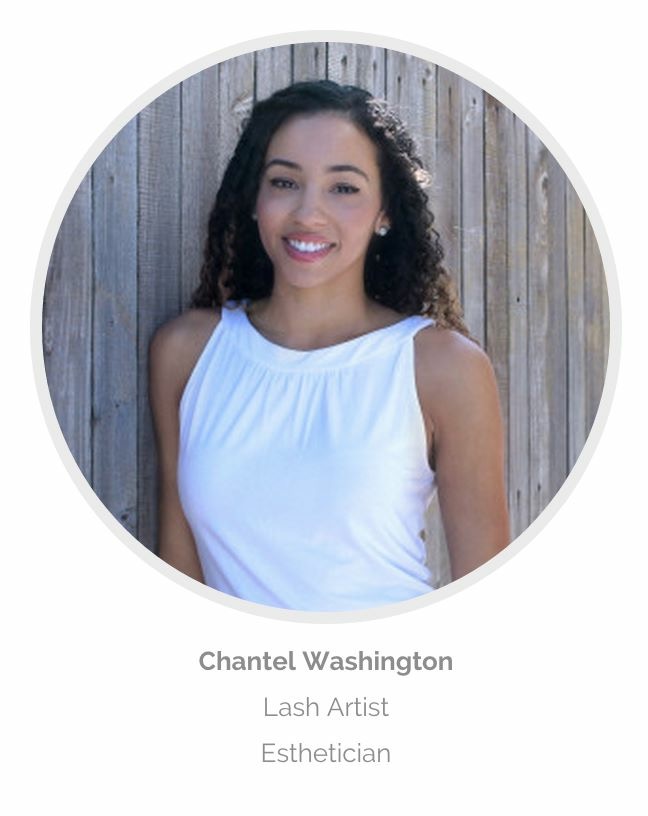 Chantel is a licensed esthetician who has been working in the industry since 2010.
Natively from Chicago, she moved to San Diego in 2011 where her career as an esthetician really began to flourish.  She is a CA State Board certified esthetician, Lash Affair certified lash artist, YumiLash lash lift certified, and EWC Speed Waxing certified.  She has enjoyed all avenues of the esthetics field and the unique craft of Lashing is the perfect fit to her creative expression. Chantel's dream of opening a lash studio came to life in 2015 when she opened ChanteLashes, in the coastal San Diego city of Del Mar. Located 1 block from the beach, clients visiting can expect a bright and spacious atmosphere with beautiful views of the Pacific Ocean.
Aside from a comfortable setting, you can rest assured you (and your lashes) are in good hands. The sole purpose of ChanteLashes is to give clients their desired lash results, while taking the utmost care of their natural lashes in the process. There is a large misconception that eyelash extensions are damaging to the natural lashes, and Chantel is striving to change that perception with each client that visits, guaranteeing that the health and integrity of the natural lash will never be compromised, allowing clients to enjoy their extensions indefinitely!
HOURS
Tuesday 11am – 7pm
Wednesday 9am – 1:30pm
Thursday 10am – 5pm
Friday 12pm – 6pm
Saturday 10am – 2pm
Ok, this is a big one.  There are a lot of important factors that go into Lashing properly, and believe it or not, a lot of science behind the skill.  There are a lot of amazingly talented Lash Artists out there today, however not all lash artists are aware of the proper techniques and standards.  […]
Volume lash extensions are extremely fine lashes that are grouped together to form a "fan" shape, and that fan is then applied to each natural lash.  This gives the illusion of more lashes, thus resulting in a darker, more dense lash line, creating your very own custom strip lash.  A volume "fan" can actually weigh […]
Chantel is an incredibly gifted artist! My lashes and brows look so gorgeous and I'm so happy with how I look every time I walk out her door.  She uses high quality products that work great for my sensitive eyes and skin. Highly recommended!!  -Bree A., La Jolla, CA
I was very satisfied with Chantel's work. She's professional yet easy going. My lashes were so beautiful. I was getting compliments left and right! Nobody knew they were fake which is the best part. They lasted about 3 weeks and I will definitely be going back to her.  -Yadira R., San Marcos, CA
If you need waxing services, Chantel is your girl. She is extremely thorough and performs THE BEST Brazilian wax I've ever had, and I am very picky when it comes to them. She makes you feel very at ease and her technique is as pain free as it can get. 
-Jackie S., Encinitas, CA
Chantel is a perfectionist. She is by far the best lash stylist I have been to. I always leave with beautiful lashes that look great even after weeks of wear. She knows her product, is professional and her room has windows and feel so peaceful. I highly recommend Chantel.  -Diane H., Carmel Valley, CA
Chantel is THE lash queen! I will never go anywhere else.  Book with her before anyone else. You'll be so pleased.  -Kalyca B., San Diego, CA